Hi everyone,
Thanks SO much for your prayers yesterday & today. Keep it up! Here's an update on our situation so far.
Yesterday, the girls & woke up and saw new baby swallows that had hatched in the breezeway. It was so cool! We got up on a latter & took pictures. They were so cute & ugly at the same time! I uploaded them to flickr & got Kendall & Caroline off to swimming which started at 11:40.
While we were at swimming, my mom & Nathan made plans to go up to my aunts house to go swimming. It was 105 at our house at that time! They invited Steph, Dominic, Bella & Nathan's friend Kathleen. By the time we got home at 12:50, they were all up & Annie's in the pool. Kendall, Caroline & I got up to Annie's at about 1:20.
We were all playing & having a good time when Steph saw a little bit of smoke down the hill. Then, as we all watched, another fire started a short distance from the first and another. We saw 4 fires start in all.
At 2:00, I called Ryan at work to have him check the fire dispatch website to see where the fires were. It just said Hwy 1 Just north of Airport Blvd. That's about a mile from our house. So, I hung up & called Jeff's cell to see if he could run home & check on the dogs.
When I called Jeffy, at 2:06, he told me that he was at home having lunch and didn't know of any fires. He walked out his door and said "Oh crap, it's our property that's on fire! I'll call you right back."
I couldn't wait, so I called him again. He said that the fire was burning down the hill & he was going to get the dogs, my external hard drive (that had ALL of our pictures from the past 6 years on it) & get out.
When we hung, I called 911 & told them that my brother was trapped on our property & it was burning. I got panicky & didn't know what else to do!
I called him again & he said "I can't get out. I have Putty & can't find Neo. Where's your Netdrive?" I told him it was on the desk but panicked (again) and said "Go! Get out! Get Out!"
He took Putty and hopped in his car. They went up on the hill across from the driveway. I am pretty sure that that's when 4-5 firemen in a helicopter landed up by our cow pasture, told him to stay put, and went to work. He & I were on the phone a lot of that time but I called my dad & Ryan in between calls with Jeff. They tried to get home but couldn't. Nathan, Kathleen & I prayed and kept quiet so that we didn't upset the kids (who were still splashing in the pool & having a blast) or Steph who was already a nervous wreck.
So, Jeff & Putty sat in their hot car, waiting to be rescued or waiting to spot a way out when a Jeep came flying down our driveway. It drove down to the houses, turned around and spotted Jeff waving at the top of the hill. One of our old family friends, Dan Doerksen, had risked his own life, plowed past firefighters and come to rescue Jeff! I still can't believe he did that for us. He took them to his house & to safety. Thank you, Jesus!
We took Kathleen home & met up at Dasher (where Ryan & Jeff both work). Kathy took SUCH great care of us! The kids had a blast and thought that it was a treat. Doug also made them feel right at home...Thanks Kathy & Doug, if you read this!
Last night, we tried to get close to the property but couldn't even get within 1/2 mile of it. So, we headed to the Watsonville animal shelter to see if we could find anything out about Neo & Sienna. I went in and asked if they had any German Shepherds that had been rescued. She couldn't remember seeing a big boy with a huge head and I thought for sure they weren't there. But, she let me walk down the aisle anyways to look for our doggies. I kind of screamed started to cry when I saw both Neo & Sienna in a cage together, safe and EXCITED to see me! I ran to the car, got Ryan & the kids and we all had a tear-filled reunion....it still makes me want to cry! Yay!
By that time the calls were FLOODING in. So many people were looking out for us & praying for us. Again, thank you to everyone who called. It meant so much to us! Among the callers was Micah. He is a Sheriffs Deputy in the Grass Valley area. He said he was coming down and would flash his badge & get to our property. I kept telling him not to but he insisted. I honestly didn't think there was anything he could do. He & John got a hotel room last night and early this morning, Micah talked to a police officer, flashed his badge and hitched a ride down to the property to get Jeff & Dominic's medicine. Micah called me at around 10:00 am to tell me what he had seen. The conversation went something like this:
"Renee, I'm sorry to have to tell you this, but I just went down to the property. Grammy & Jeff's house are fine but yours is gone."
"What do you mean when you say gone?"
"I mean there is nothing."
"What about the stalls and the guest house?"
"Gone."
"Does it look like I'll be able to sift through and find pictures? Are there any walls standing at all?"
"I'm sorry, but there is nothing. It's completely gone"
"O.K. thank you for everything and thank you for being honest with me."
"I'm really sorry...If there's anything I can do, just let me know."
"Thanks..."
What a crazy thing to hear! We were in shock and didn't really know what to do next. We all went to Macy's and bought ourselves some new clothes and bought Nathan the things he needed for camp since he had to leave for two weeks of camp today.
7.13.08
I haven't had a chance to finish this so here it is...
On Sunday morning, at 7:30 am, all of the residents on Trabing Rd. were allowed to see their homes. Ryan, Nathan, Kendall, Caroline & I all prayed before we went in. We prayed for peace, joy and that we would each find a "treasure" in the ashes. Gos answered every single one of our prayers. When we drove down, this is what we saw...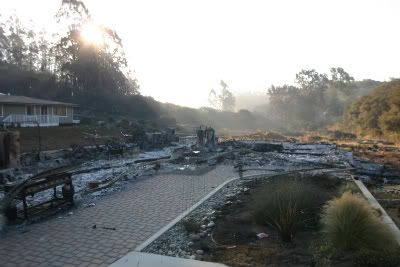 God was faithful (of course!) and we all felt a peace & joy that is impossible without Him! Also, that morning we found Nathan's 2 favorite shirts, safe 7 sound in the RTV, Kendall's bike untouched in the carport, one of Caroline's stuffed animals resting in my mom's front yard, a vase that Christian's dad had made for Ryan, in one piece in the ashes and a rock that Nathan carved for me on my 30th birthday, still whole in the debris. Yay! We have since found even more cool things like the ring Nathan had carved for Kathleen in 7th grade and pictures that somehow ended up at Steph's house.
Everything since then has been a blur! We have been blessed in so many ways! I can't believe how many good people there are out there! For instance, a girl scout troop heard about us and sent bags and bags of toys & clothes for the girls. Randy French, the owner of SurfTech, gave Nathan a surfboard and Jim Halderman (Ryan's old boss) gave him a wetsuit. I was able to take them up to him at camp on his 16th birthday which was fell just 5 days after the fire. Nini & Staci have been our cooks, laundry ladies, organizers, sounding boards, mail women, friends and SOOO much more! People that we have never met have sent letters, gift cards, clothes, toys, cards, and other generous gifts! Carol Anderson of CAbi clothing donated new wardrobes for us and the rest of victims of the Trabing Fire. We are truly amazed at everyone's generosity!
We are now staying in a condo at Pajaro Dunes. It's not home but it's nice and even on the beach. We spend most of our days sifting through ashes and trying to do inventory for the insurance company...what a task! I can't believe how much crap we had! As soon as we have water (our water tank even melted!), a restoration company will come in and clean my parents' house and we will move into it. They have graciously offered to move into a condo for the next year so that Nathan, Kendall & Caroline can have some sort of a normal life until we know what we are doing.
So, here are our prayer requests for now:
That all ELEVEN of us will continue to get along and that there won't be any quarreling among us.
That we will remember accurately what we had and be 100% truthful with the insurance company.
That we will be a light to the world around us.
That the county will allow us to rebuild since ours was the one "un-permitted" dwelling on the property. As many of you know, Santa Cruz county can be extremely difficult when issuing permits. This one will take a complete miracle and we need it!
That we will find time to do some of the things we enjoy and that our kids will have some "normal" time.
Thank you again! I love you all so much and can't imagine going through this without you! You can call me at 831-331-7671 anytime. Also, you can see more pictures at www.flickr.com/reneeoa
love,
Renee